Your sick and tired of your old, stone-age broker and platform and it's time to move right? Now your stomach drops…"How do you move your brokerage account with minial pain and hassle right?"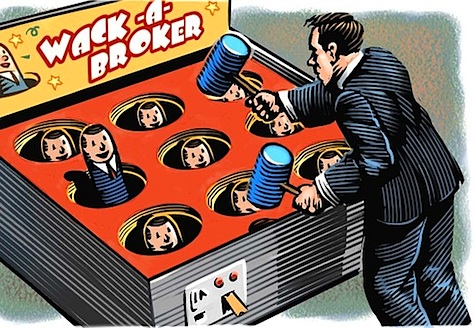 For most people transferring money from one brokerage account to another case seem a little intimidating. But if you are in an unhappy (or pissed off) with your current broker than why stick around any longer? Dump your broker just as you would a relationship you don't enjoy being in. Frankly these days it's so easy to make the switch you'll be amazed at the end of the process.
Why I Made The Switch To thinkorswim?
Back in early 2005 I decided I had enough with my old Fidelity account. It was complicated and time consuming to enter trades. Moreover, I had stopped working for the investment banks and needed something more sustainable to keep my alive trading on my own. I was referred to thinkorswim through a friend and have never looked back!
As many of you already know, I'm a complete thinkorswim fan. They continue to update their platform with the best tools and charts around these days. Sure they are a little pricey but you get what you pay for in this industry. And when you have money working day and night, the platform had better be top notch.
The Paperwork Is Easier Today
Most people fail to leave their current broker because they fear the paperwork. However, these days they have made the whole process so easy and streamline, you may end up only signing 1-2 pages at most. Either way, if you are unhappy with the services or tools your broker offers, the commissions they charge, or justwant access to every product type out there, then paperwork should not stop you.
3 Quick Tips To Help You Start
Whatever your reasons for leaving, here are some tips to make the transition smooth.
Let your new broker handle most of the work. They want your business and are willing to do most of the paper work for you in advance. They might also waive their wire transfer fee to get you up and running.
Duplicate your new account to match your old account. It is important to make sure your new account looks exactly like the old one. That means that if it is a joint account your old account must be a joint account. This will make the paperwork much easier and the whole process smooth.
The transfer process can take several days. Plan this out in advance. Don't decide to move your account over 1 night and assume it will get done. Know now that it could take 3-4 days. So plan your new trades accordingly and/or close out any trades in advance of the move.
Finally, don't be afraid to ask for questions and talk to your broker often. Get your hands dirty, make the switch and it will all be for the better.
What's Worked For You?
Have you made a switch recently? What has worked for you or what didn't work? Any gems of knowledge you can share with everyone…
Start Our Free 4-Part Video Course And Learn How To Make Smarter Option Trades. . .
I've been told by tons of people that you've got to either have a lot of money or a really killer system to trade options and win. Some new indicator or signal that will transform your portfolio magically overnight.
And I'm sure you've heard the same thing and are sick of these expensive, dead-end courses and websites wasting your time and money. This course is different.
You see, there is no "magic secret" to trading options. It simply comes down to an understanding of risk management, option pricing and strategy selection.
Instead of learning these lessons the hard way (i.e. losing your shirt in the market), why not take my free 4-part video course as I cover each area in detail. Plus, I'll go over the exact checklist I use for selecting trades each month!